10. 16. 2005
Laptop cooler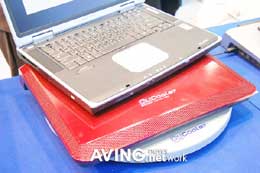 Cycooler, developed by Korean company JIUM, is a cooler for laptops.
Place your laptop on it and the thermoelement on the surface of the laptop absorbs heat and then releases by adhering to the base of the laptop. Its ergonomic design helps to mitigate your wrist pain.
Not a bad idea actually. I just freak when my laptop is getting hot, makes me imagine the worst scenarios, laptop exploding, house on fire... you name it.
From DAUM.
Posted by regine Category: devices
Tags:
Email this | Comments (1)

---
---